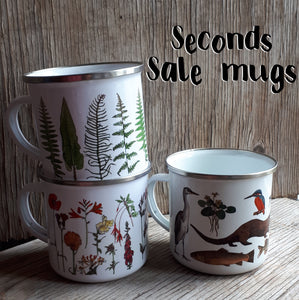 These enamel mugs are in the category of 'seconds'- they might have a blemish on the enamel, or a chip in the enamel, or bumpy bit in the coating, or a blemish / mis-print in the design.
Enamel mug size - the height is 80mm, diameter 86mm.
Please note: Due to the hand-crafted nature of the Enamel mug each product will differ slightly and there are occasionally some slight imperfections in the coating - a small area without enamel or slightly uneven covering or light defects such as dimples, colour blemishes and black dots. These are all classed as acceptable defects and should be considered before purchasing. Hand wash only and immediately dry thoroughly as rust spots may occur. This is an inherent characteristic of enamel mugs.