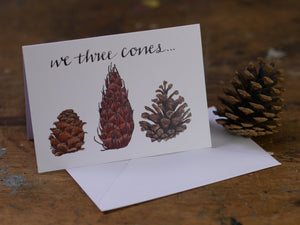 We Three Cones Christmas Card is printed on 100% Recycled paper, is A6 and blank inside and comes with a plain envelope.
The design originated from Alice's daily drawings in the lead up to Christmas of different species of cone, (Larch, Black Pine and Douglas Fir). The original drawing is done in pen and ink with hand lettering.
There is also a variation of this card that has the cones wearing crowns and carrying gifts available as a Christmas card.