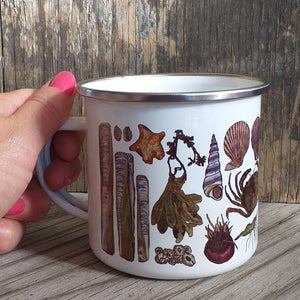 A celebration of all seaside species - from shells to seaweed, mackerel to mermaid's purse. These illustrations by Alice Draws The Line were drawn little by little each time Alice visited the sea. Finally they became a collection that formed this design.
The height is 80mm, diameter 86mm.
Please note: Due to the hand-crafted nature of the Enamel mug each product will differ slightly and there are occasionally some slight imperfections in the coating - a small area without enamel or slightly uneven covering or light defects such as dimples, colour blemishes and black dots. These are all classed as acceptable defects and should be considered before purchasing. Hand wash only and immediately dry thoroughly as rust spots may occur. This is an inherent characteristic of enamel mugs. This listing is for one mug only, unless you order more at the check out. Images of multiple mugs is just to show the design around the mugs.
They are posted in plastic free wrapping, using corrugated card and brown paper. Free 2nd Class UK Postage
Gift wrapping is available on this item - using the Beech Leaf wrapping paper