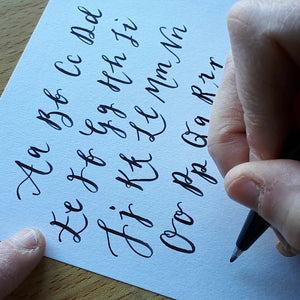 This is a £15 Gift Voucher - perfect for gifting someone my 'Lovely Lettering (Digital) Workshop'. It isn't possible for me to make the gift voucher specific for this workshop, but it is the right amount and the link for the workshop is included in the download that you receive when you buy this voucher. 
Should the recipient prefer to spend the £15 voucher on something else in the shop - this is possible. 
When you purchase this you will receive a downloadable card that you can print, fold and give to the recipient (or e-mail) if you wish.
For more details about the Lovely Lettering workshop, please see the workshop via this link - https://www.alicedrawstheline.co.uk/collections/workshops/products/lovely-lettering-workshop-digital